Let me say how extremely humbling it is to go into a dressing room, a few pounds heavier than you would like to be along with ZERO tan and try on bathing suits, but for the sake of swimsuit season I did just that several months ago now. Although we are unlikely to be heading to the pool anytime soon, it's still fun to get ready for those fun summer days again.
But because I am a firm believer in stepping outside of my comfort zone to inspire and empower others to do the same, I put one foot in at a time and pulled the bikini bottoms up high! I wanted to share with you all the great suits I found.
I want to start by saying a little disclaimer. I realize that every single one of you is not 5'3 and weighing in at 130 lbs (ish….I haven't weighed in awhile so that's a guess). I have carried and given birth to two babies and I've gone up and down in the ten pound range the last couple of years (currently up on that side) AND I may be a bit fluffier than is socially acceptable to be posting public photos of myself in a bathing suit ….all that to say to you – mama – as you read this, be kind to yourself and be kind to me. We good? Then, let's begin.
I am a huge fan of Target (I mean, aren't we all?) but definitely for swimwear.
I have shopped with them in the last few years and love the styles and the sizing accommodations. The quality is also very good and the price is on point! I also know that most of us live near a Target store and can be a convenient place to shop and right now you can order online and have it shipped right to your door!
Important Details When Selecting Swimwear
When I am shopping for a swimsuit for my current season of life – I look for a variety of details. I prefer a higher waist in a two-piece and a supportive top that is sized in a bra-size versus a Small, Medium, Large. I prefer wide shoulder straps that don't dig into my arms. I literally squat down a few times and bend down to act like I'm lifting a child while in the fitting room to make sure nothing falls out! When I am standing vertical again, I like to ensure I am not constantly "fixing" my suit. I have a 6 and a 4 year old and we go to the pool or beach, I am rarely just sitting pristinely on a beach chair reading a book (although I do love to do those things). I am up, digging in the sand, helping to jump waves, tossing kids in a pool, wrapping them up in towels, picking up all sorts of pool-beach toys, and have to be up in a seconds notice in case a float falls off. I also like to look cute and since it's a sunny season I prefer color over black.
Winter Blues – Away
First up, this cute cobalt blue two piece. Even though the bottoms are a mid rise, they are still flattering and the top with the twist detail is really cute! I did all the jumping, squatting, and bending over things and it held up well. I also loved the back with the double straps. Just a small detail, but helpful for keeping things in place.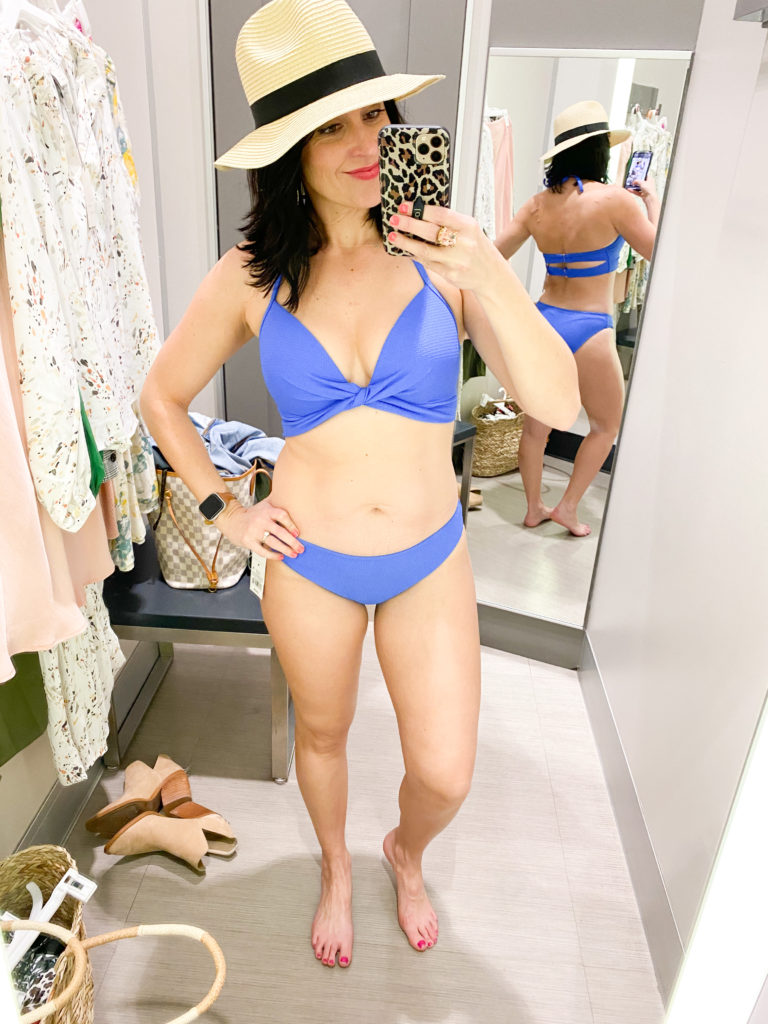 Red Hot
I loved this swimsuit! Except for I grabbed a Size Small and needed a Medium to give me some more length in the torso. Online there is a style that is actually called "Long Torso" and even though I wouldn't have considered me having a long torso, I needed it more for support for the boobs. The ruffle detail was feminine and I loved the color! Perfect for when I have a tan – (Again!)
MONOKINI …huh?
This suit style has a name! It's a Monokini and I was weary of it because it reminded me of a trying to step inside a straight jacket – but once I got it on, I was pleasantly surprised! The print was good and the lines were flattering. Again, I needed a medium to fit the best, but couldn't run back for a second one.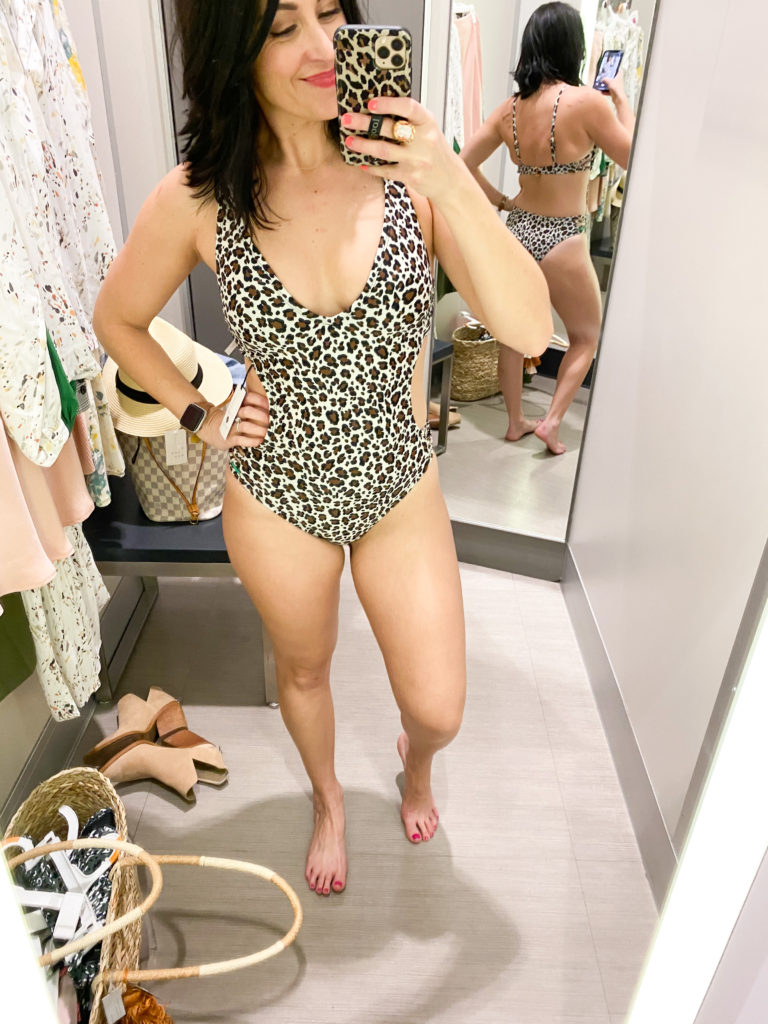 Stripes Are Oh So Good
The fact that this checks off so of my boxes on my list is already a great start. Vertical stripes, a bra-size top, high-waisted bottoms, and super cute! The thinner straps were one of the only downside, but it was still very comfortable. Also, the cage cutout details are on-trend and modest, but add edge to my mom-vibe.
Color Blocks
This was one of my favorite suits! I love the colors and the way that the pattern flatters my shape. It comes with a neck strap and while with my kids I would need that – but I also felt very comfortable in this to be active and moving around while strapless. Overall, this took home best overall award!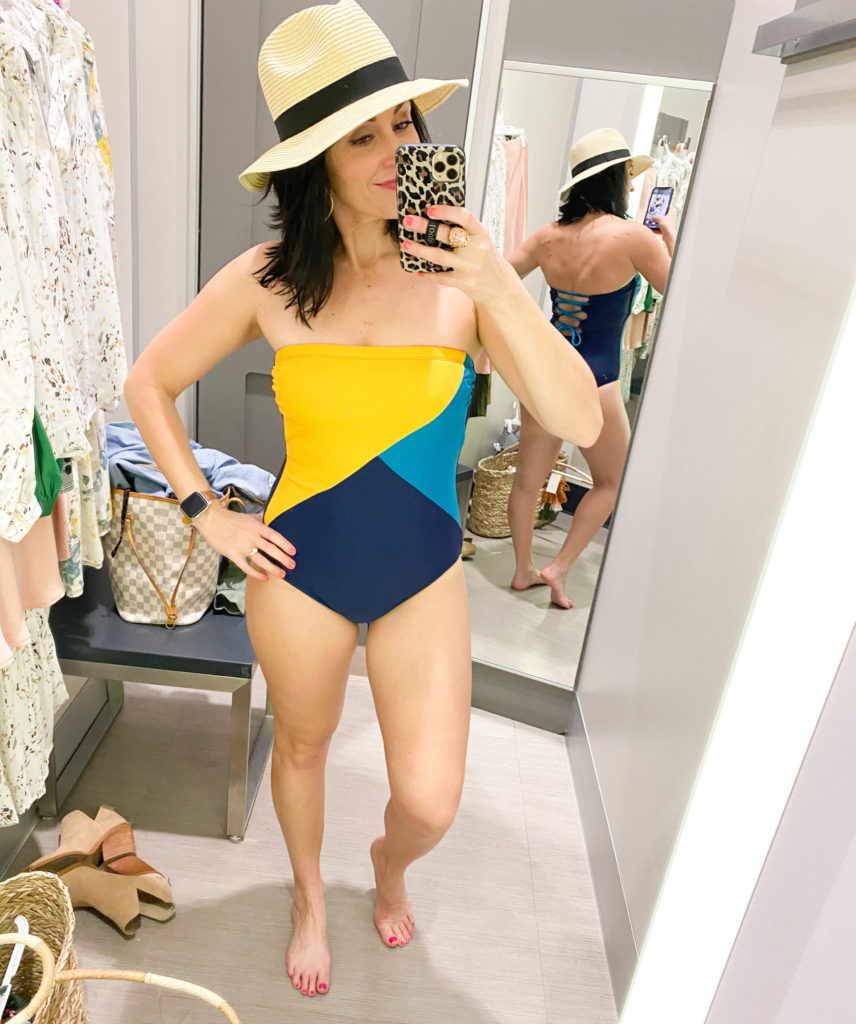 Leopard and Ruffles
Eh – this one was o.k. Although as I write this, it has all the things that I don't usually care for in a suit (thin straps, mid-rise, not a bra-size) and it didn't deliver when I did the jump, squat, bend exercise. Cute print, but that's about all it offered.
Color Block 2.0
I wanted to love this one as much as the other color block one because I love the colors and the cut, but for this one to be as comfortable I needed the size up and they didn't have it in the store. (Size Medium). My boobs kinda fell out while bending over so that's why I'm thinking it may not have worked – even in a bigger size, but if I was smaller chested maybe it wouldn't be an issue. This may work well for our more-petite chested -gal pals!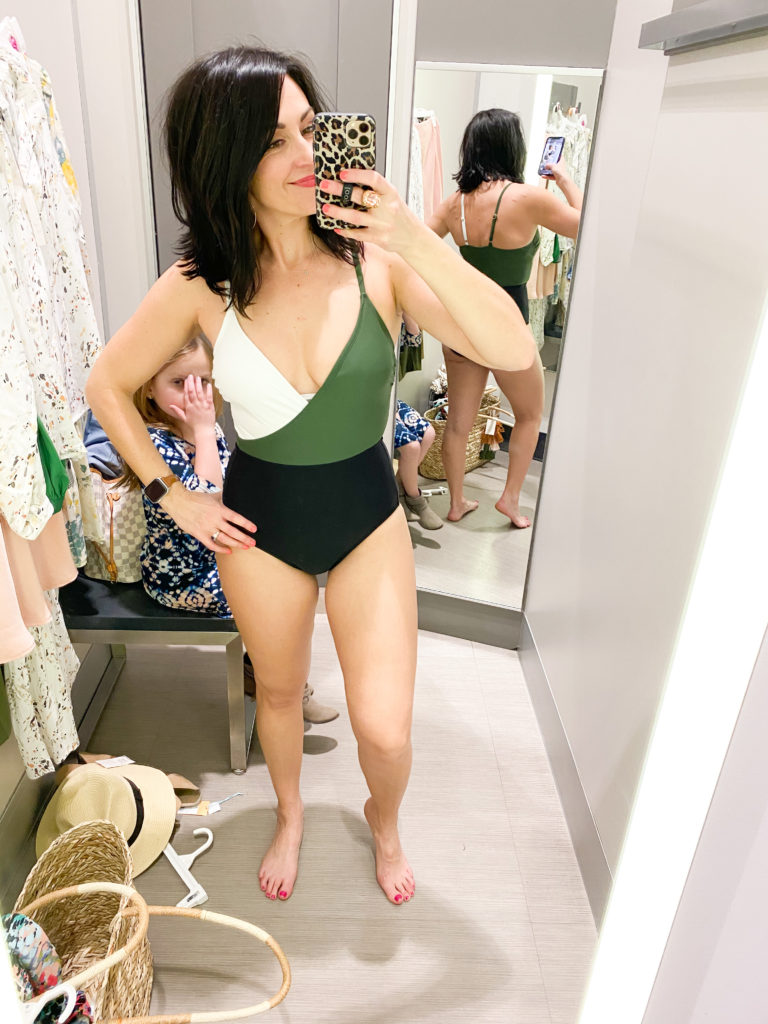 Seeing Spots
I hesitated grabbing this one for the try-on because I thought it may be a bit too much going on, but the simplicity of the suit allows for all the colors and dots! It's also a flattering fit and because it is full coverage, it allows for a lot of movement and flexibility without losing modesty! My daughter loved all the colors of this one (it was her favorite) and I did too.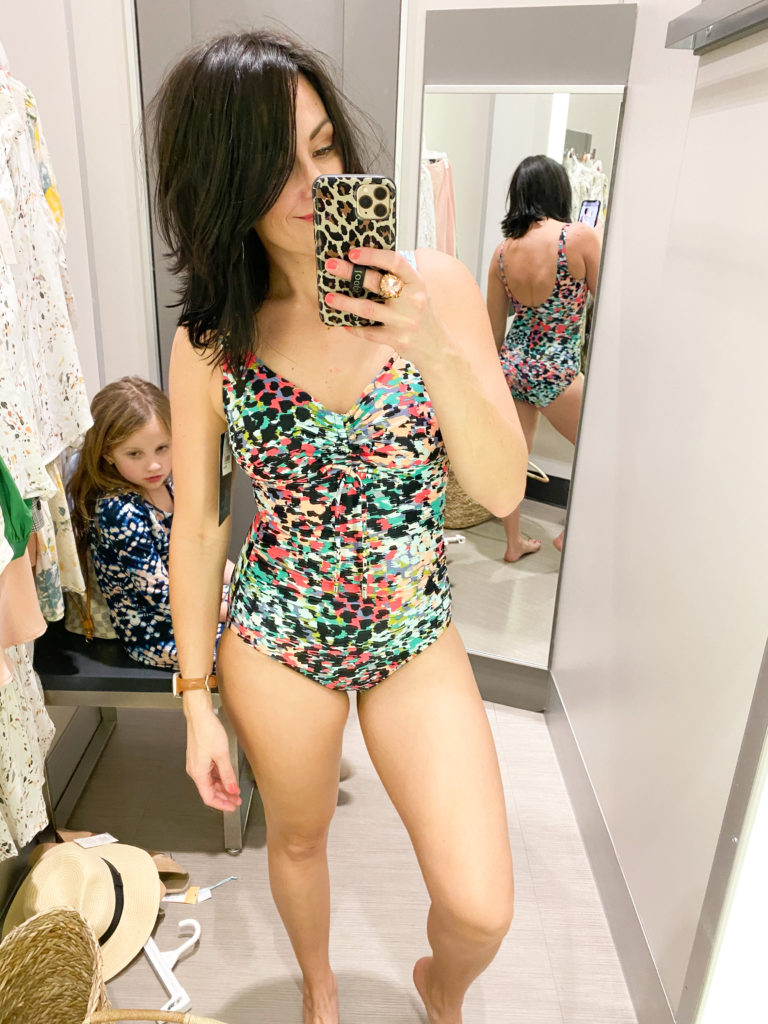 Tropic Under
This should have checked a lot of my preferences, but I think in this print there was too much going on. I didn't care much for the cut-out underneath the top and the tie at the high-waist. Maybe with a solid top the bottoms would be more desirable? Thank you, next!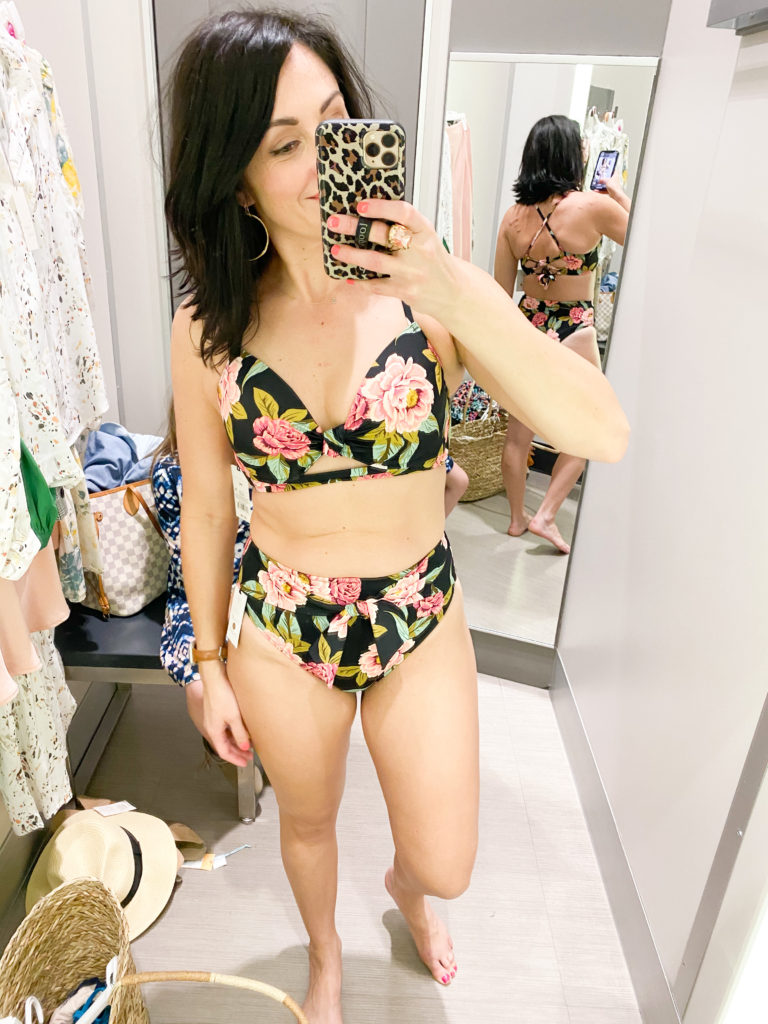 That wraps up my post/review on Target swimwear for Moms! What was your favorite from the try on? What is your favorite style for swim season and your favorite place to shop?
Thank you for reading and be sure to share it with your mama-village!