We recently teamed up with Vintage Vic and Antique Aly to create some pretty spectacular tablescapes for Spring. All of the items used where found at Antique Aly, an antique mall in Ridgeland, MS.
Follow along and see how Victoria Prevost of Vintage Vic designed each unique tablescape by using the same base of plates and silverware. We hope you can take these ideas and find items in your own home to recreate these Spring designs.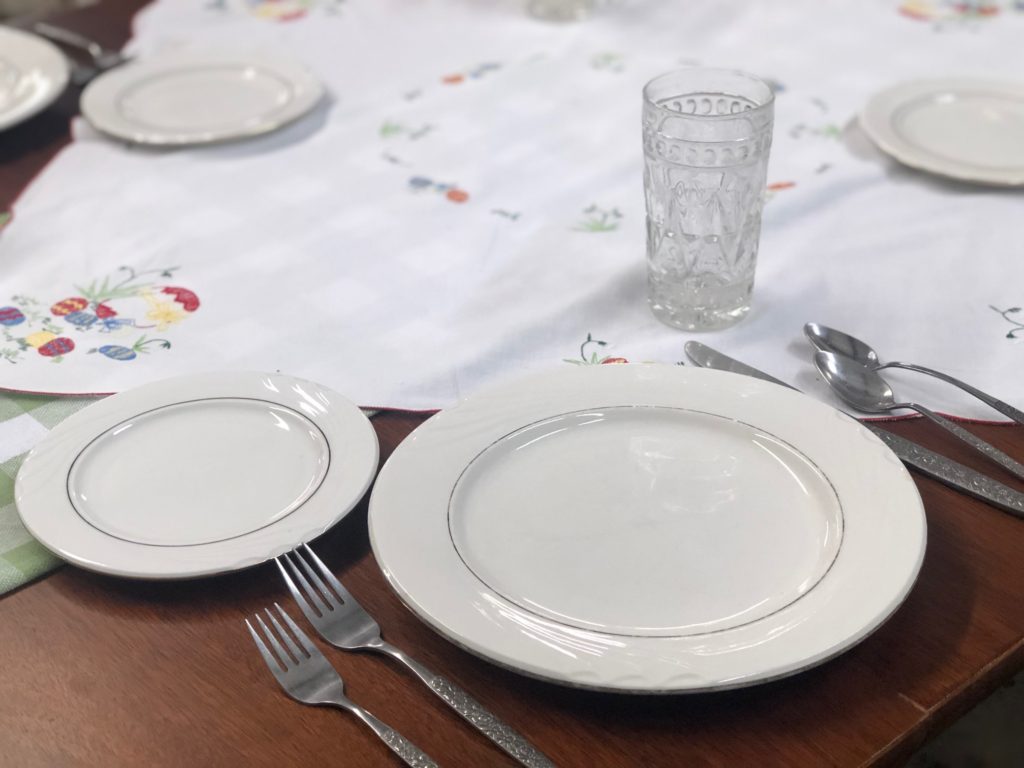 A Little Bit of Whimsy
Spring brings flowers, bunnies, eggs, and chicks with it, but who says it has to be pinks and pastels? We love this take on Easter by using red, blue, and green as a base. Take a walk through a strawberry patch and see if you feel warm weather in the air!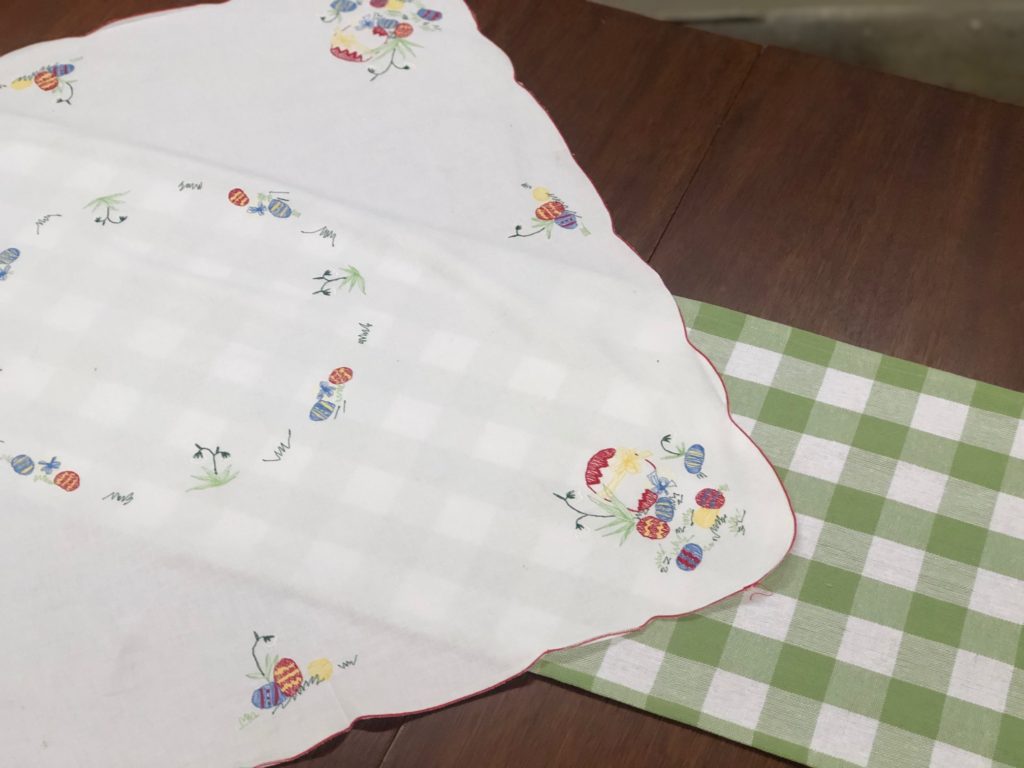 The linens used for the whimsy tablescape is this green and white check table runner layered with an antique white linen trimmed in red, embroidered with red, blue and yellow eggs.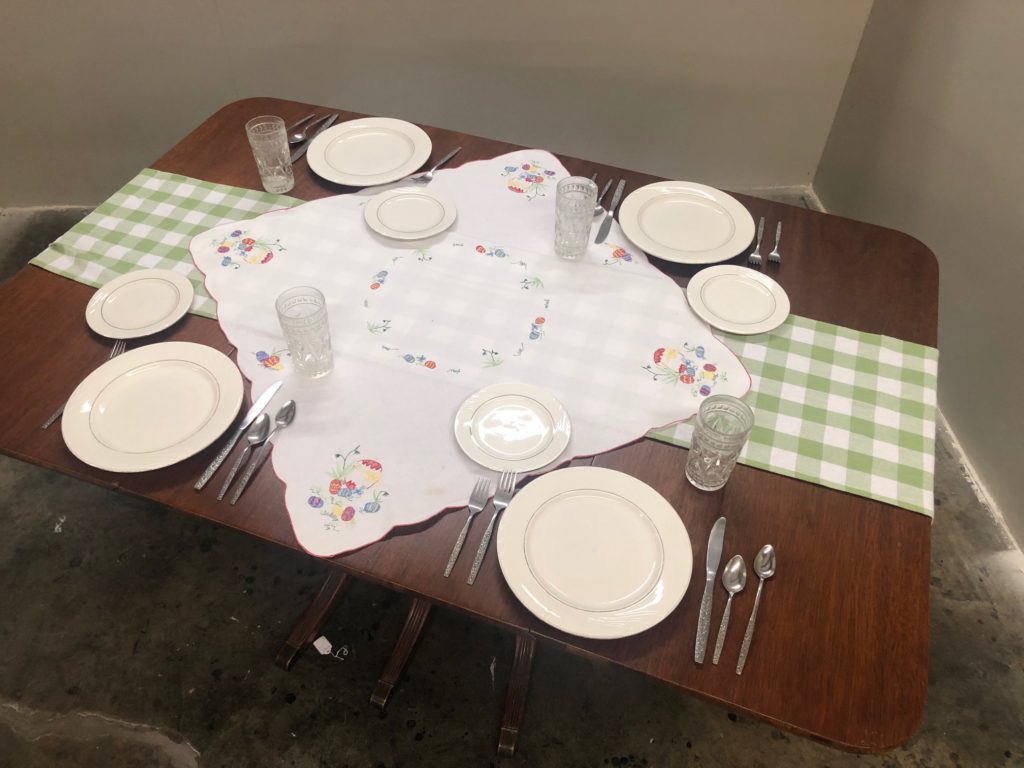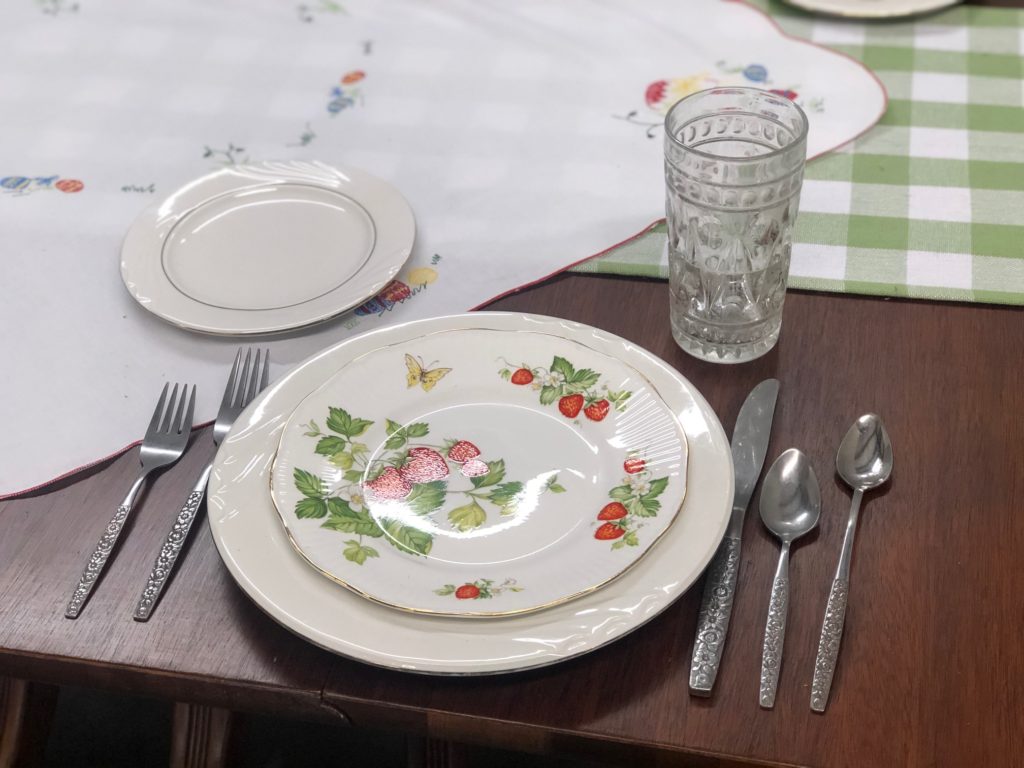 These adorable strawberry patch dishes were added to enhance the red and just brings a summer time feel. We love the ways the red berries tie in with the red accents and the yellow butterfly brings out the yellow eggs in the linen.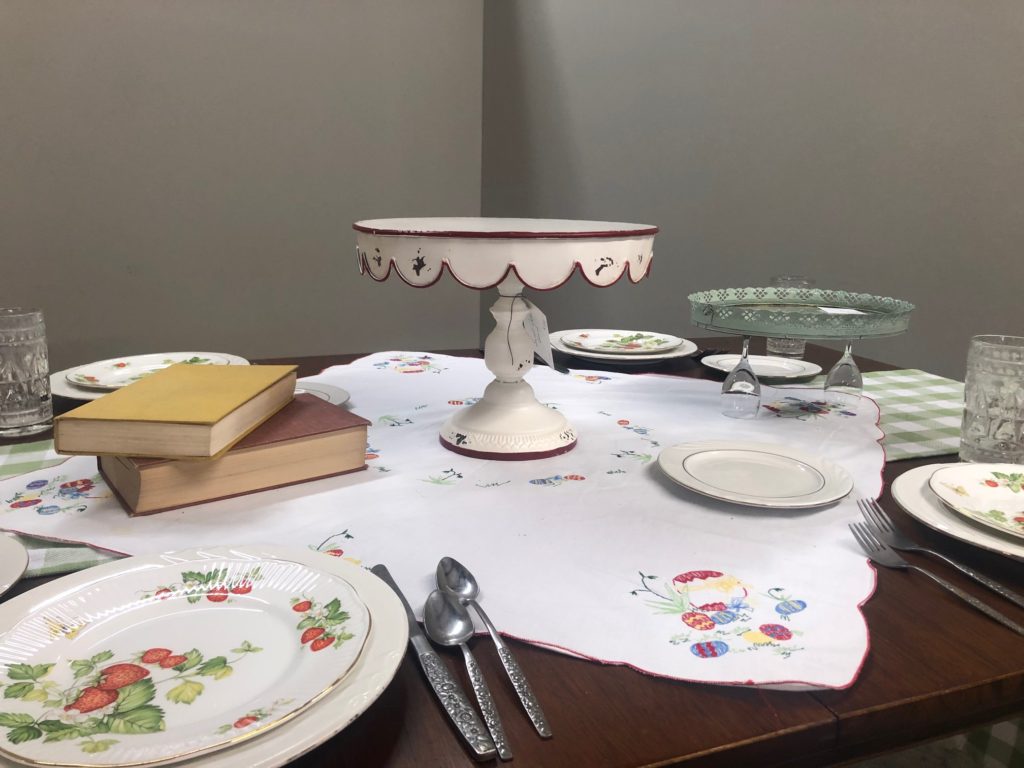 Start by adding some base items to the table. Books are always the perfect height-building item to use in design. We couldn't love this metal, antique cake plate anymore as the center of the table design. Layer items to help you build height to your table, like these wine glasses and mirrored tray. Together they make the perfect display for your treasured item.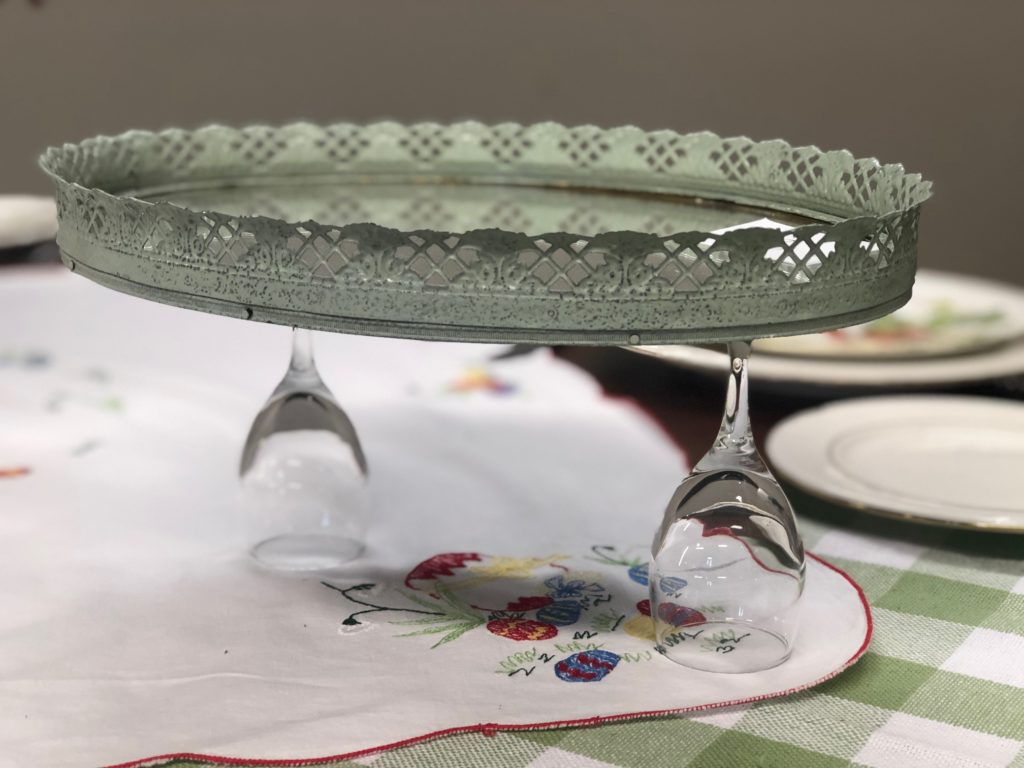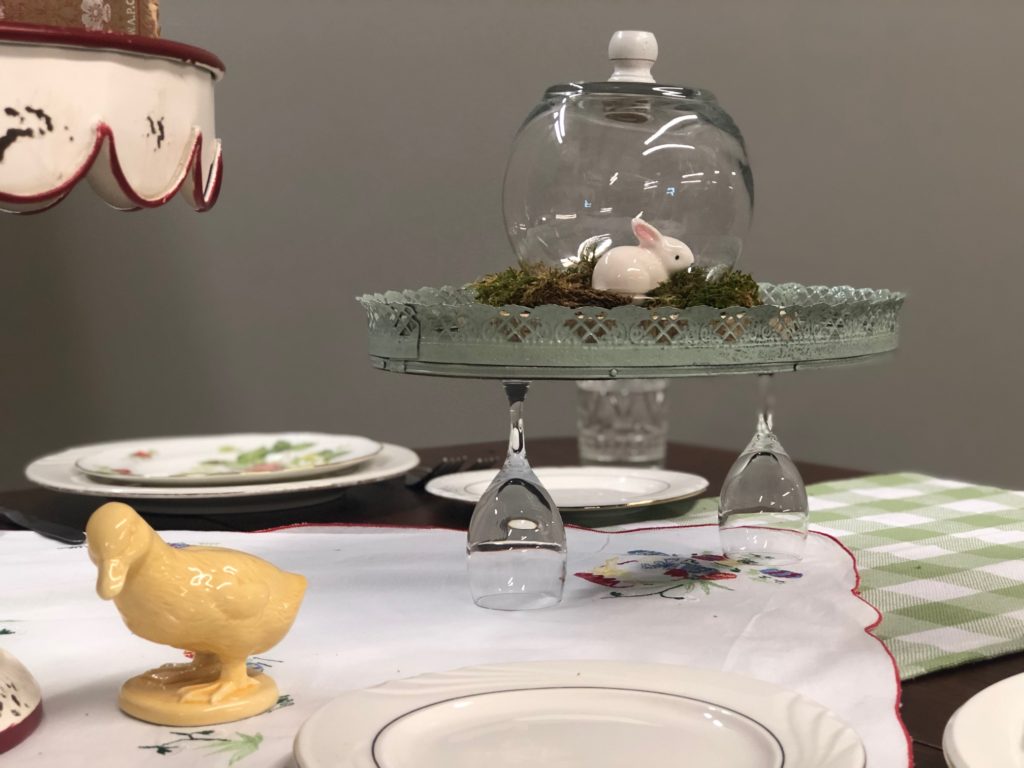 Now finish your table off with the perfect accessories and treasured pieces that you own or find at your local antique/thrift store. Here are some precious pieces, Vintage Vic, used to finish off this whimsy Spring tablescape.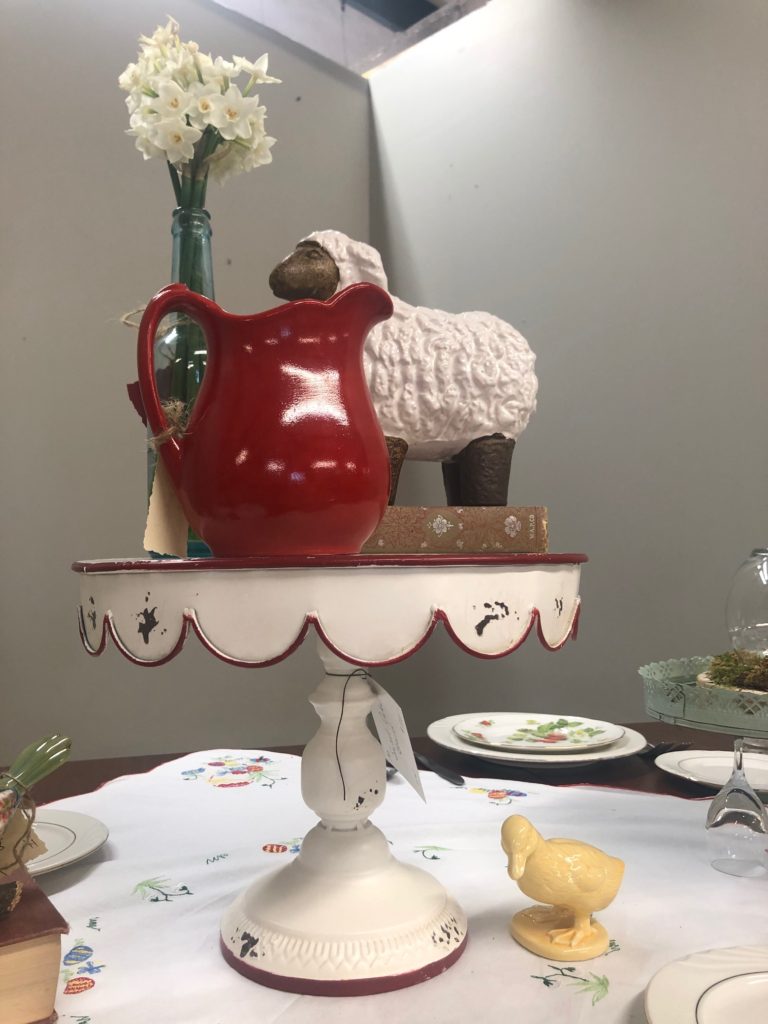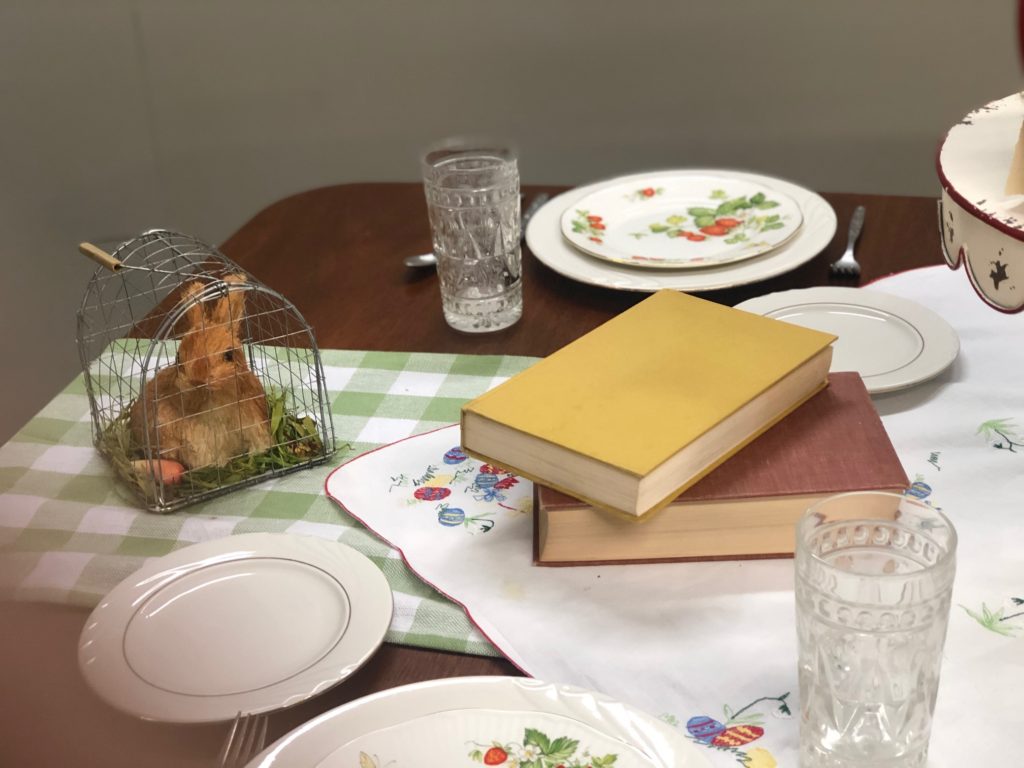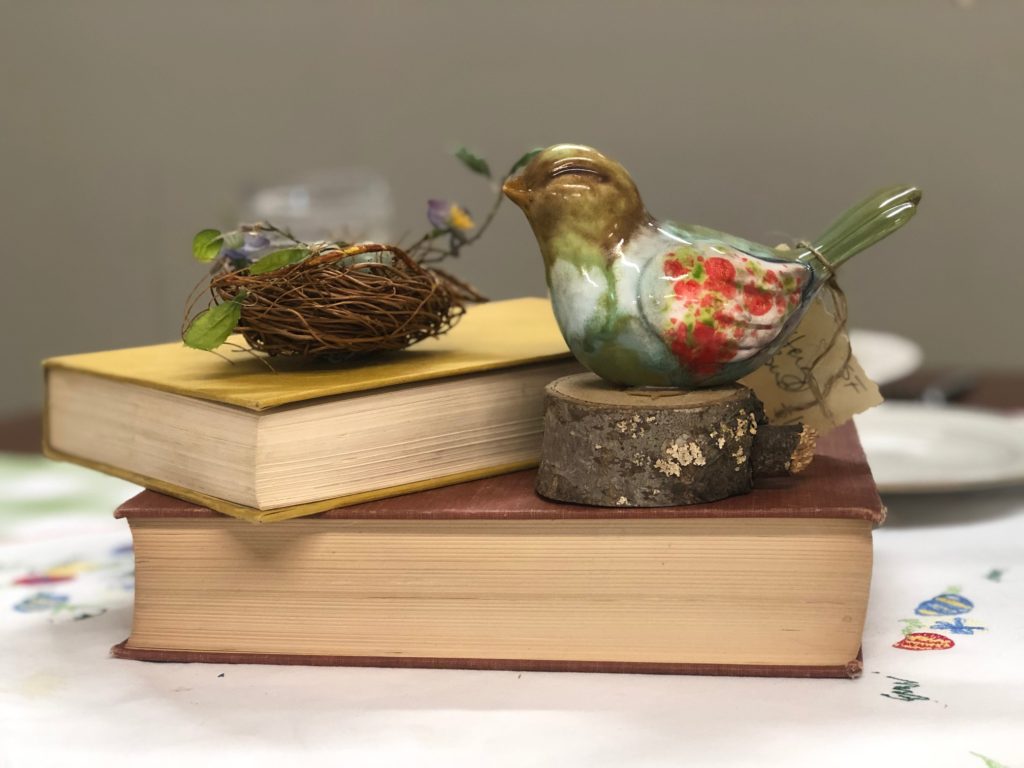 This is a look that would bring a smile to the kiddos and grandparents face at Sunday dinner. We just love this fun, rustic, child-like design! What items do you have at home that could recreate this look?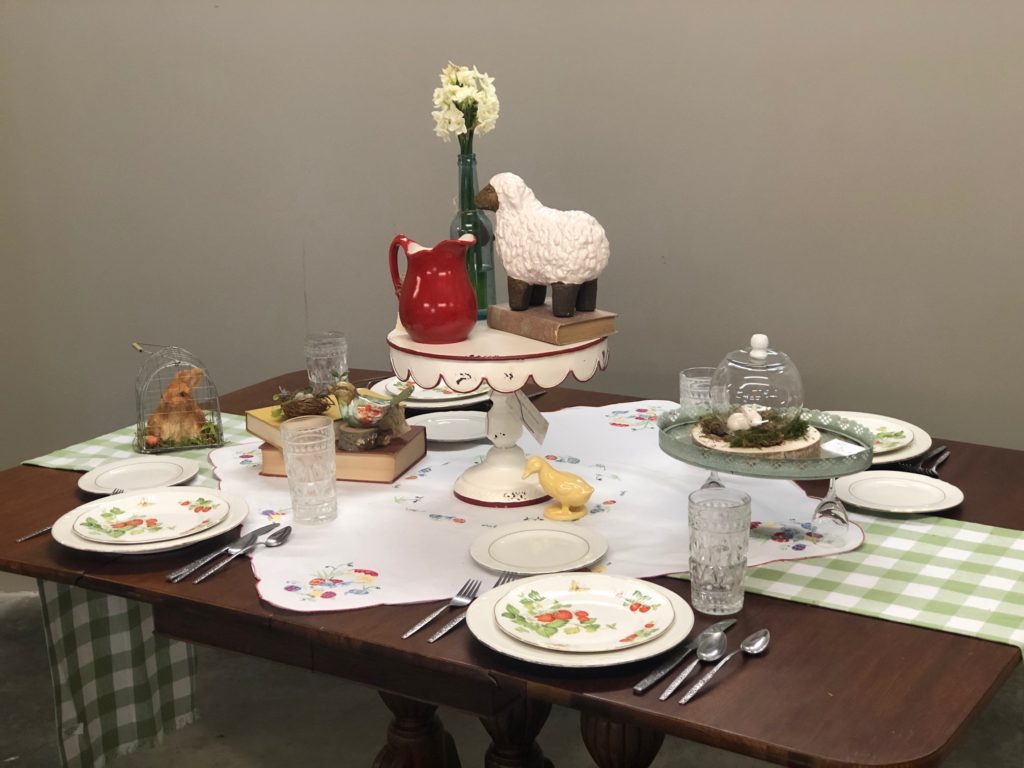 Rustic Farmhouse Style
Using the base of the same white plates, flatware, and glasses; the linens are changed out for a lace, crochet table cover along with purple accent plants. The plates are the inspiration for the entire look of "rustic purple in Spring".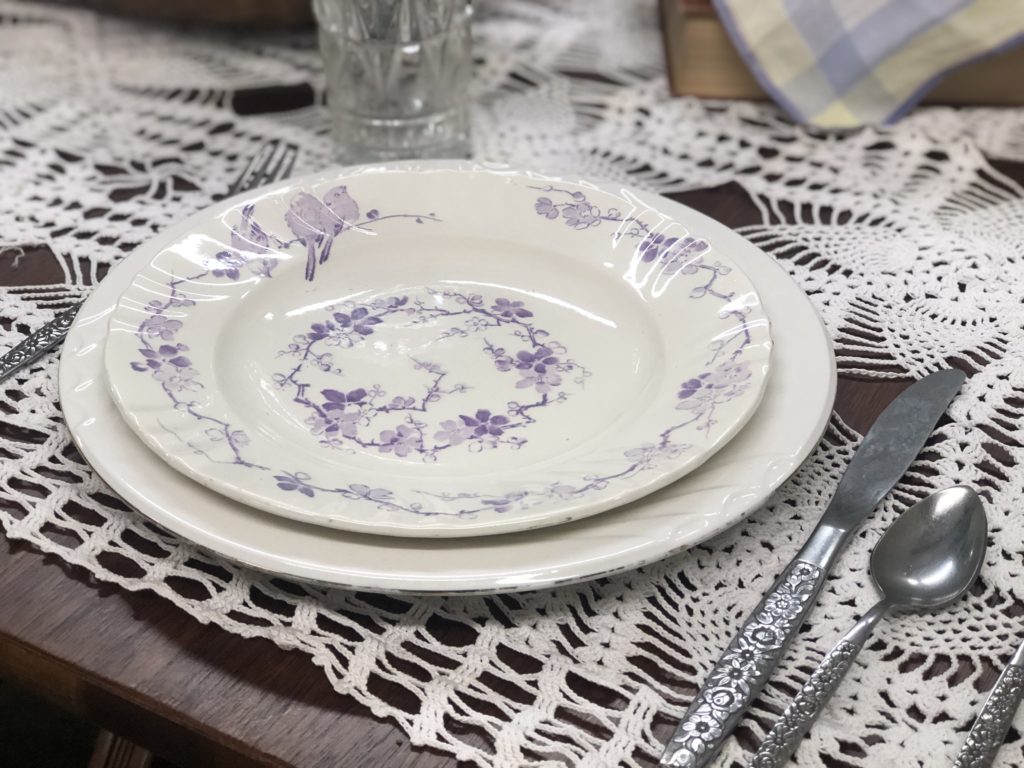 Oh how we adore these purple flower and bird plates! Again, add the height-building items to add depth to your table such as books, plates, and nothing screams rustic farmhouse more than a dough bowl!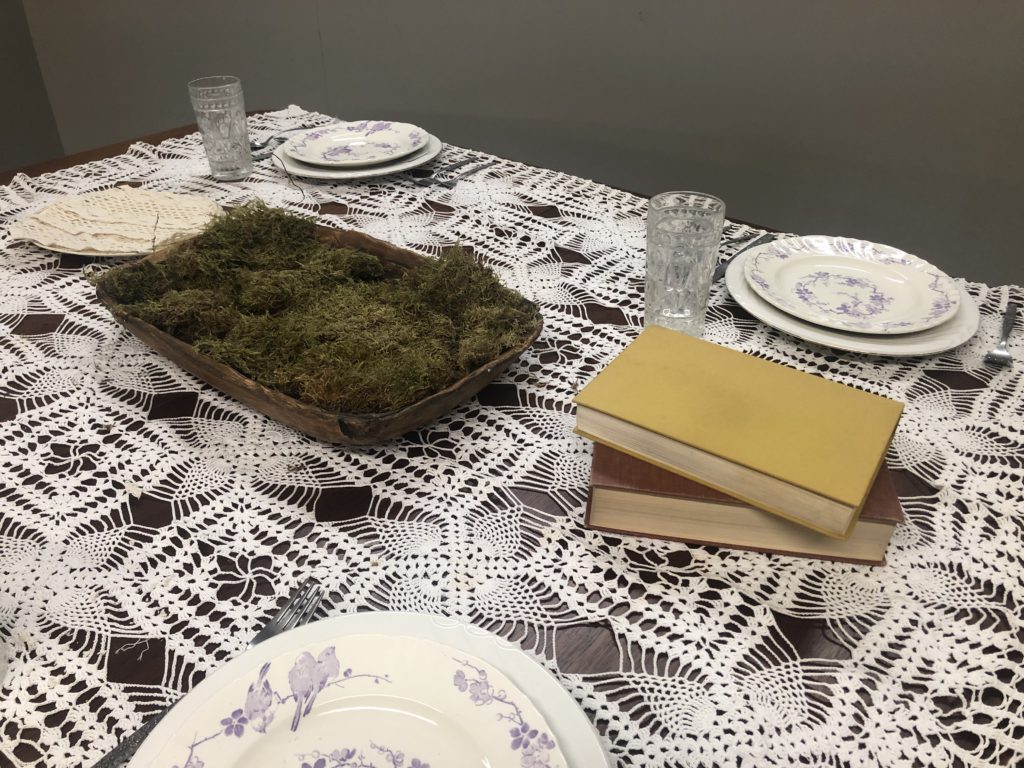 Vintage Vic filled this dough bowl with green moss, bright purple flowers and robins eggs.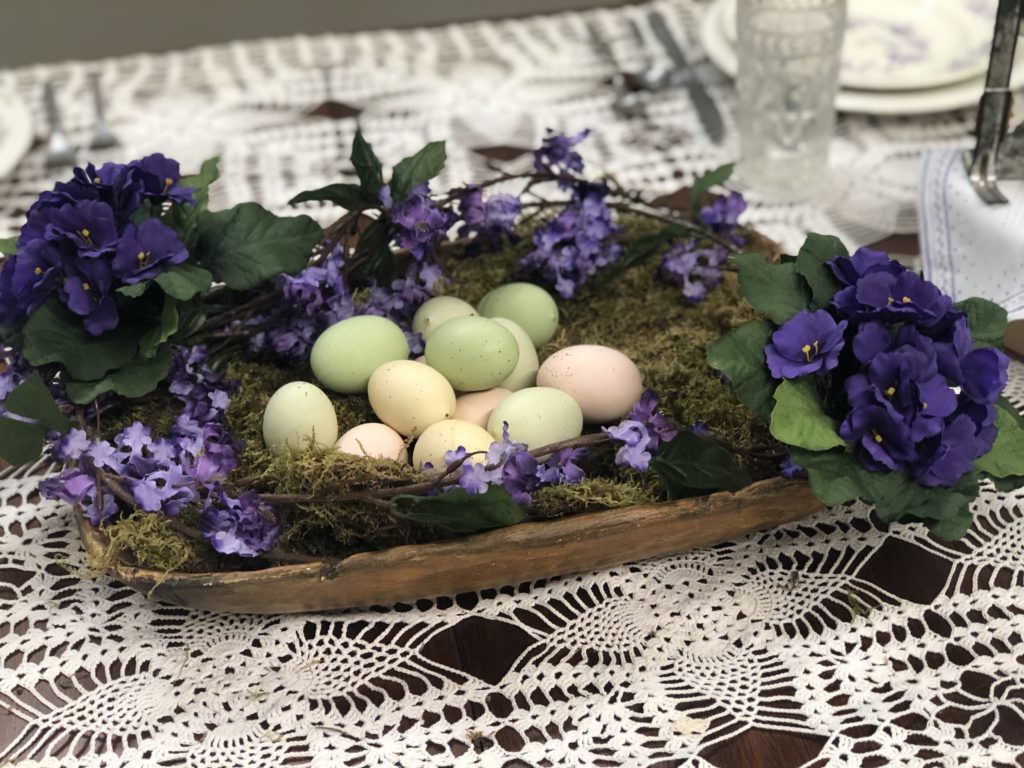 Finish the look off with some of your favorite rustic finds. Here are a few treasures we found while shopping at Antique Aly!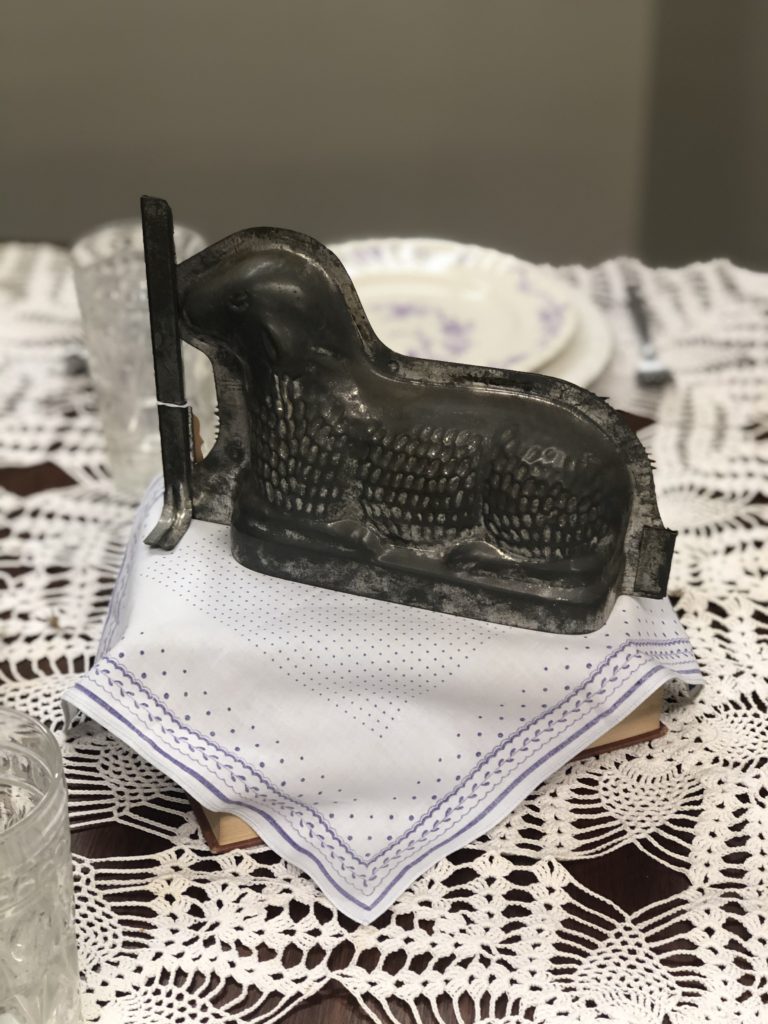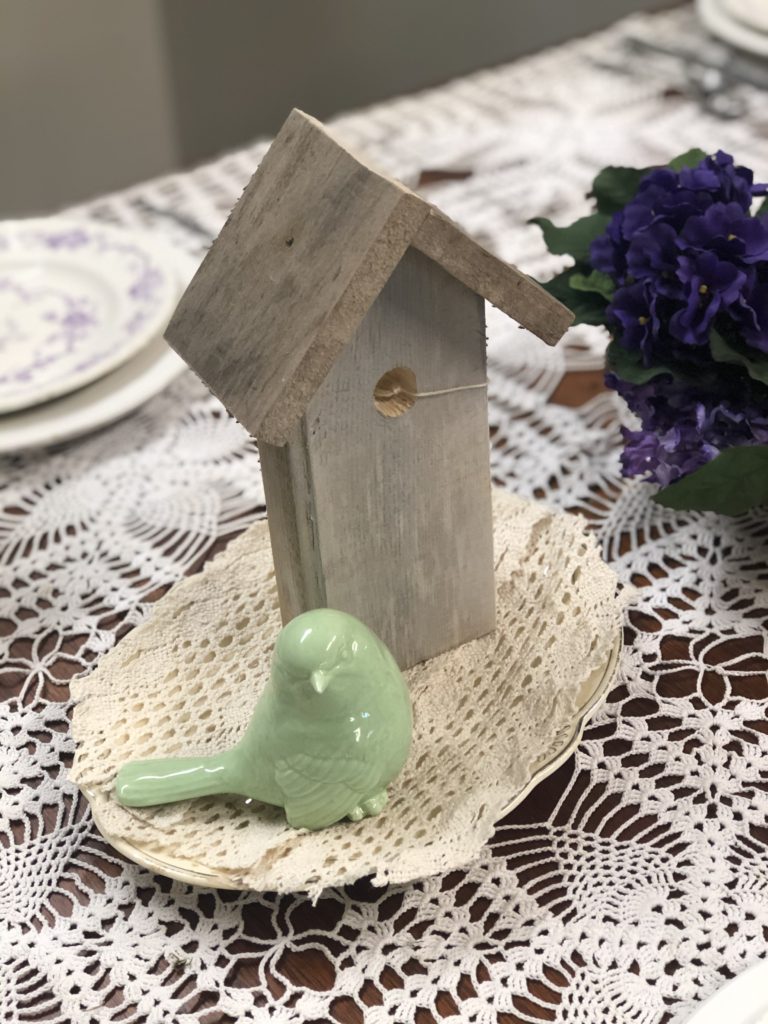 Adding different colors and textures to your tablescape adds an unique and layered look that adds interest to any table. What do you think about the finished look?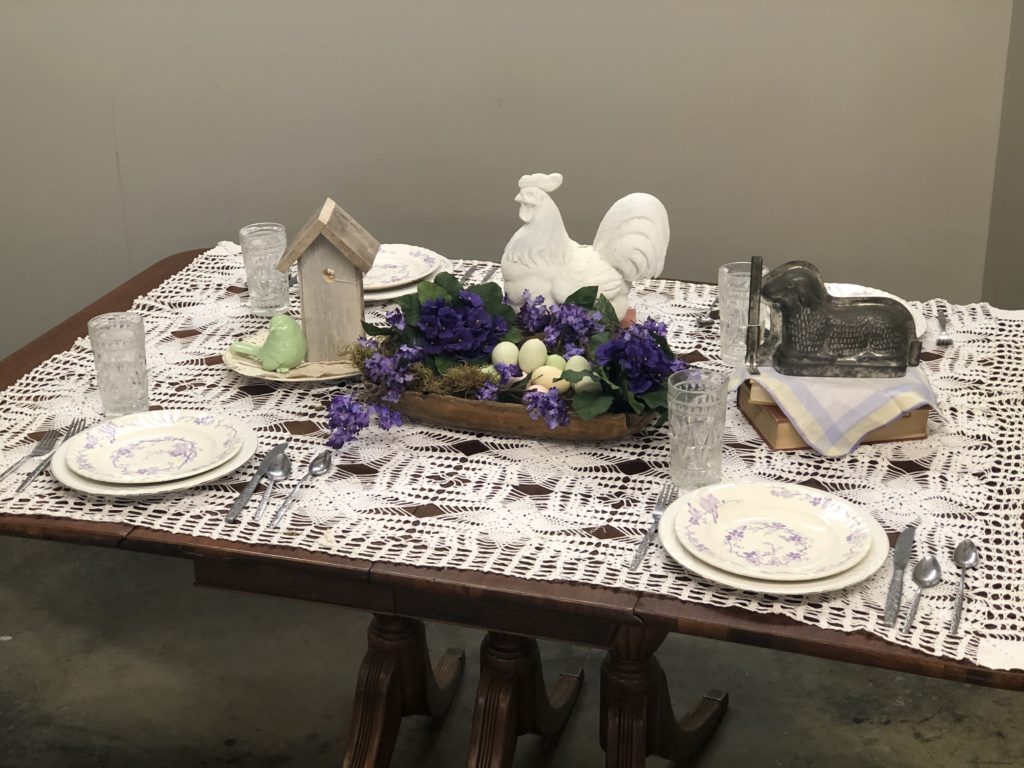 Stately Antique Design
So spolier alert! As much as we loved the whimsy and rustic farmhouse looks, the simple details Vintage Vic added to this statly tablescape was a total winner.
Using the same base of white plates, she did change out the glassware and added the coffee cup and saucer. No formal Southern table is complete without a cup and saucer for coffee with your Hummingbird Cake for dessert.
Again the linens and accent plates were exchanged for this beautiful white linen tablecloth and these very simplistic almost retro plates. We just love the different styles and textures this table adds to our different design ideas.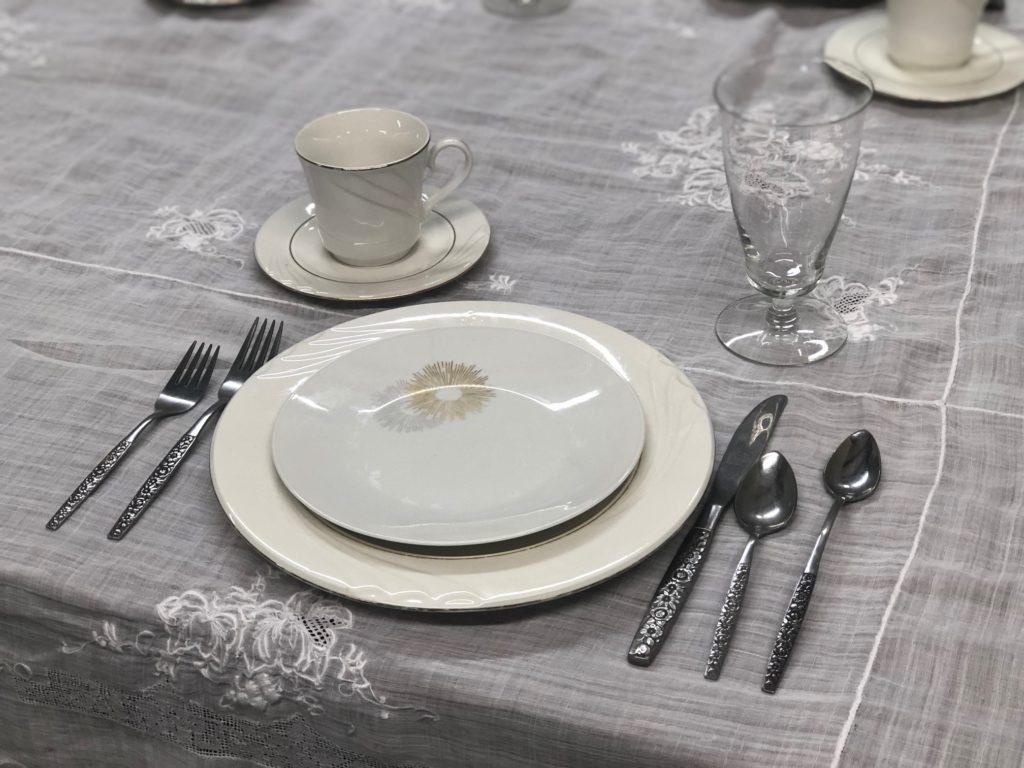 Sticking to the simplicity of this look there is no height-building elements. There are several different layers of textures. This unusual centerpiece is a Wedgewood Rams Head soup tureen with antique door knobs used to resemble eggs in a basket.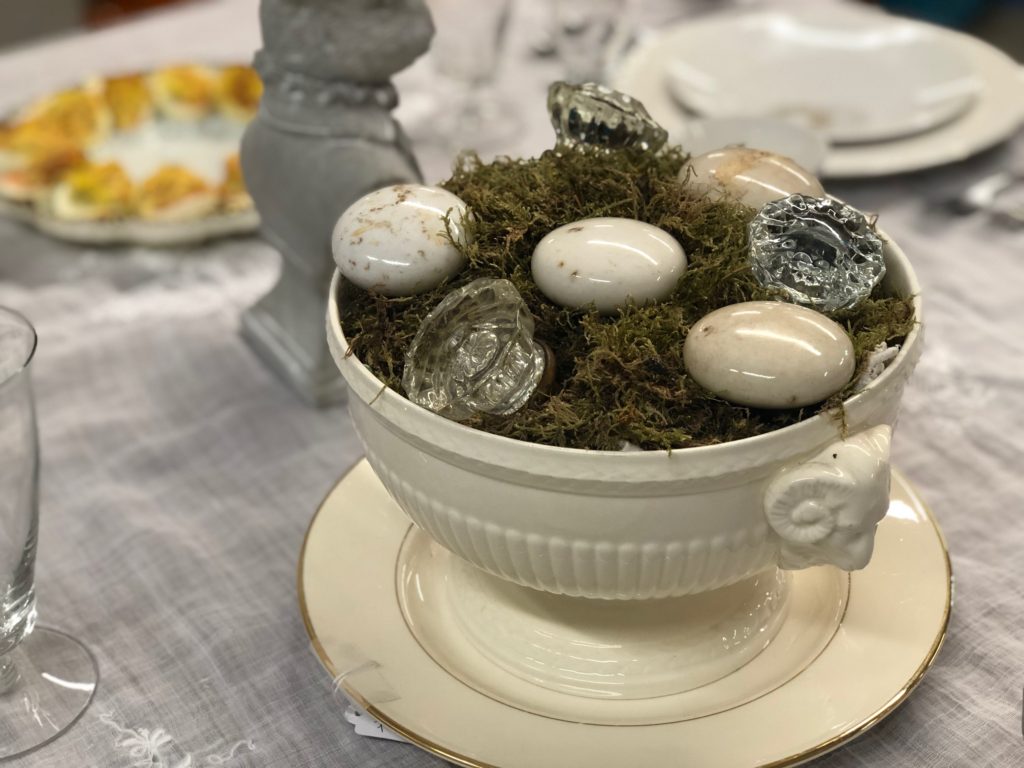 But what seals the deal on this "stately" dinner tablescape are the concert bust of the dog and rabbit! And they're in their best dinner attire. How perfect are these guys?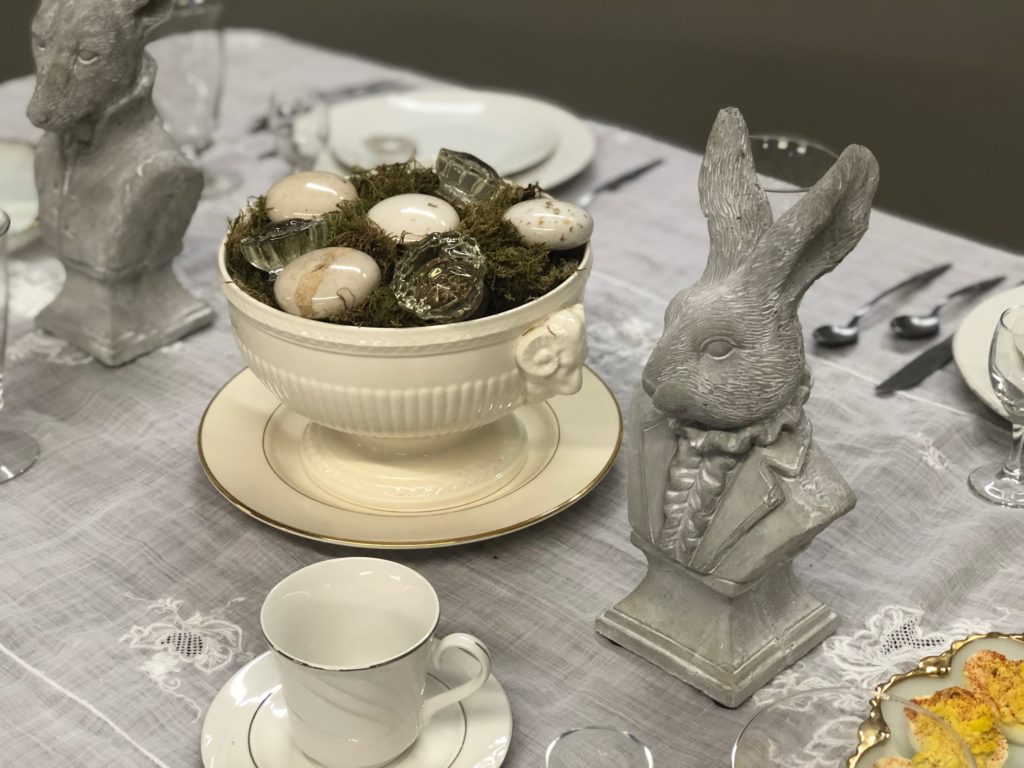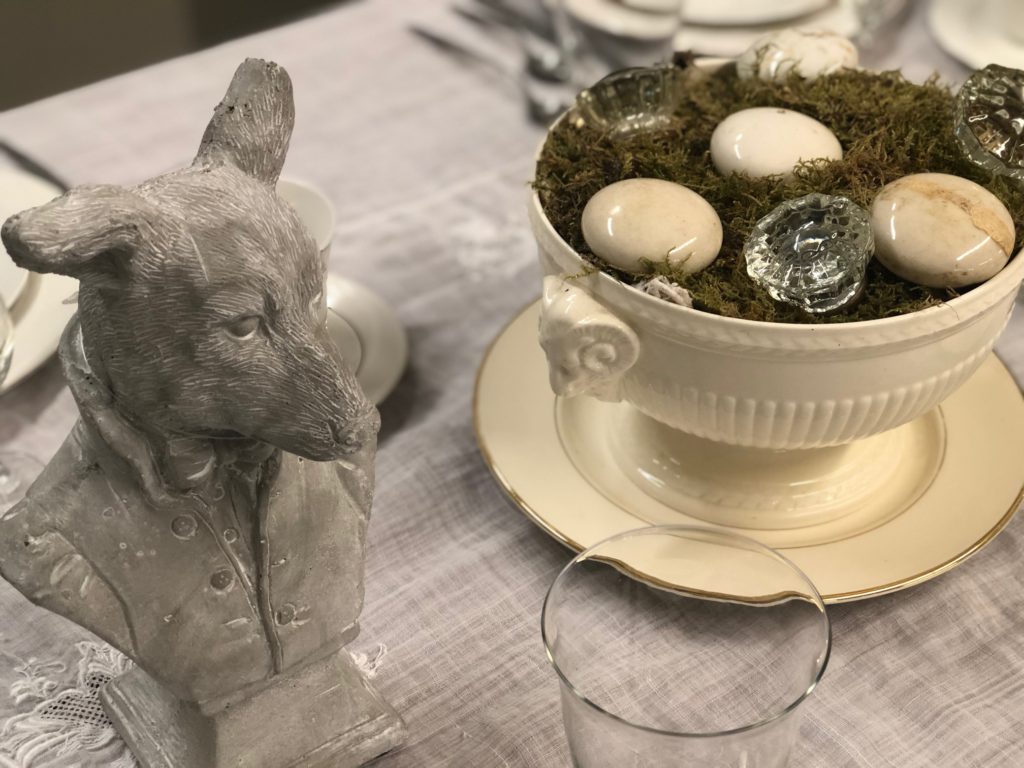 These two handsome guys are ready for a delicious Sunday roasted chicken dinner and we are too!! The completed look of this formal tablescape just really came together and we are so in love with everything about this! How do you think it turned out?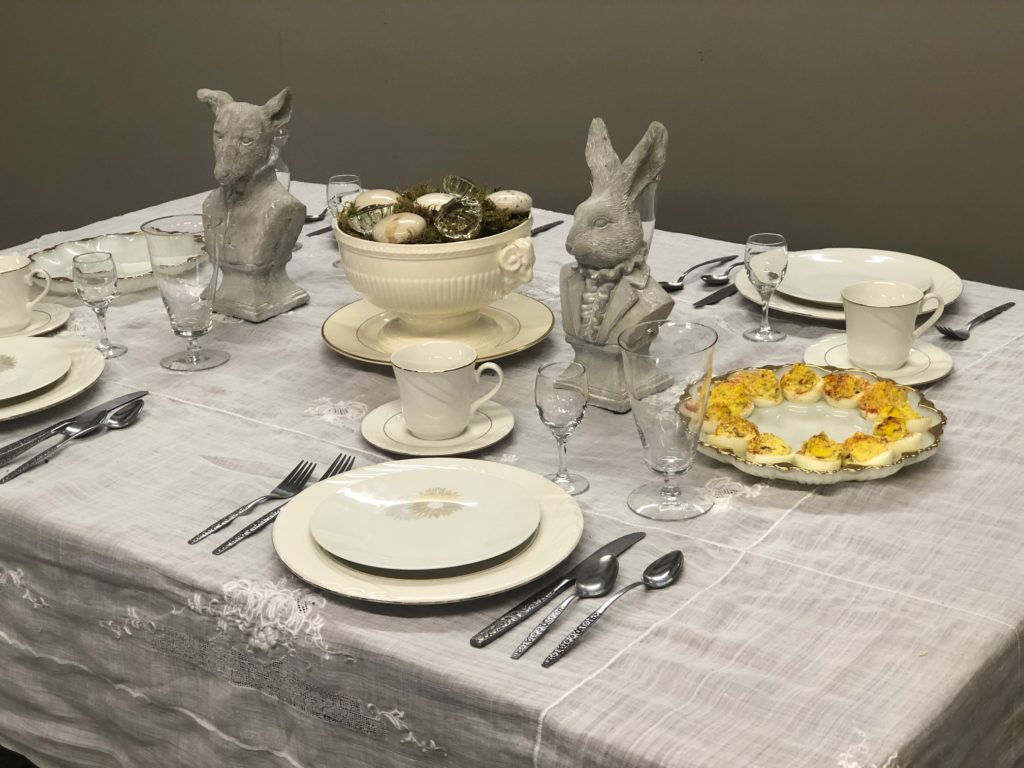 We hope our three different tablescape ideas have given you some inspiration to dig through your closets and cupboards and pull out all those old treasures you've kept tucked away. Start with your base of linens and dishes and build up from there!
A very special thank you to Vintage Vic and Antique Aly for putting together these amazing tablescapes. You can follow them both on facebook and on Instagram @msvintagevic and @antiqualyms.